What used to be UFO Sunday for me is now Scrap Basket Sunday, Slow Stitching Sunday AND Sunday Stash. And it is all good... because working on UFOs has become a habit by now. Sunday should be a special sewing day to play with scraps or relax with handwork. Having a new linkup to see what other quilters are doing with their scraps is the icing on the cake!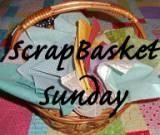 Here is a pic of Strip Stacks from my WIP Wednesday post showing my pull of blues & browns from my 2.5" strip drawers.
So far I have finished 3 blocks. I'm using one of the ivory/cream shades of Bella for background from my stash.
Here are some of the spare parts ready for today's sewing. I'm really liking the blue/brown color combination in this pattern.
I came across them again on Friday, measured them and guess what? They are just the right size for Strip Stacks. Yesterday while watching March Madness I got busy with Mr. Ripper as they were sewed together along the 5.5" side. The pile next to my thread bucket (thank you Target Dollar Section!) have been separated and of course I had lay out a sample block. This will be a perfect leader/ender project and eventually Extra Scrappy Strip Stacks!
How's that for Slow Sunday Unstitching?
I've decided that Sunday Stash Reports aren't my thing. I love my stash and am not actively trying to shrink it or grow it. But I will share some stash enhancements from time to time. I've blogged before about my love for Thousands of Bolts and how I keep a wish list of fabrics until I have enough to stuff a Priority Mailing box full. Their minimum cut is one yard, and when I find fabrics I love I go back for more.
I needed a bit of purple and light green for my stash and I love the diagonal grid prints.
My desktop computer bit the dust this week which is never a fun thing and oh so time consuming. The hard drive did come back to semi-life for one day (Happy Dance!!!) so I was able to get the important data offloaded... Now it's all sitting up in the "Cloud" somewhere until my new machine arrives. And, I will be backing up to the Cloud on a REGULAR basis going forward. I'm not loving editing photos and blogging on my lap top much!
I'm linking up to Scrap Basket Sunday@Kim's Big Quilting Adventure, Slow Stitching Sunday@Kathy's Quilts and Sunday Stash@Finding Fifth.