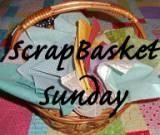 Strip Stacks is coming along nicely, in fact I'm almost done with the blocks already.
The blocks are HUGE - 10.5"x 24.5". I've got 9 on my design wall and only 4 full blocks left to make plus 4 half blocks. It might be a flimsy by the end of the week!
I like everything about this pattern and I'll definitely be using it again... and again. I think I've hit my target on the older boy quilt too. I'm linking up to Scrap Basket Sunday@Kim's Big Quilting Adventure and Design Wall Monday@Patchwork Times.