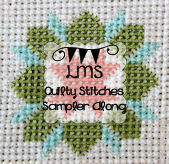 The last block in this series has been released and one of my goals for the week is to get caught up. I did some stitching earlier in August between moving trips and was able to finish 1 of the 5 blocks I have left.
I also got a good start on two others. If you look closely at the top pic you can see that I ended up doing some un-stitching on block 12 because I didn't like how my colors were going together. Usually I do them in order but since I knew that block 13 would use red & aqua (all of my blocks have these 2 colors in them) I skipped ahead to that one. Then since I'd already skipped ahead I figured why not start the other 2 as well. I think I might have been on moving overload!
The colored pencils were a find when I was shopping for our son's graduation party last spring... I love that they are 2 colors to a pencil. So I dug them out and starting coloring in my templates. As you can see I've already changed my mind (again) on the Economy Block and am going to flip the orange and pink around.
Block #16 will be an easy one - all in red. The picture of the finished layout is from Corey's blog Little Miss Shabby. This project has been SO MUCH FUN!
Kathy's Quilts
for the first time in weeks.